energyDOTs
EnergyDOTs – the effective, affordable solution to electro-stress
Phi energyDOTs are based in Devon and produce an innovative range of discreet devices designed to help with the effects of electromagnetic fields (EMFs) – such as that emitted from a mobile phone, wifi, computer/laptop etc – such that these fields no longer stress the body.
It is easy to be sceptical of both the effects of electromagnetic fields on the body and the effectiveness of this type of
product but by using Amatsu muscle testing techniques, it is quite straightforward to assess whether you are adversely affected by EMFs and whether energyDOTs will be helpful to you.
EnergyDOTs are shiny wafer thin 17mm low energy magnetic discs. The family of energyDOTs currently comprises the smartDOT, bioDOT, aquaDOT, and spaceDOT. Each of the DOTs in the phi family is programmed with its own unique energy signature for its specific role. All energyDOTs carry the CE Mark and the smartDOT is a registered class 1 Medical Device.
As well as relieving the negative effects of the technologies to which we are all exposed, energyDOTs are also encoded to optimise your natural energy. These negative effects can include any or all of the following depending upon how electrosensitive a person is: headaches, insomnia, mood swings, low energy levels, anxiety, depression, unaccountable aches and pains through to extreme distress in the presence of electromagnetic frequencies. Researchers have also linked EMF's to neurological disorders and some cancers.
The smartDOT
The smartDOT is the core of the energyDOT range. It is programmed to harmonise or retune EMFs from all wireless/electronic devices, making electronic equipment easier and safer to be around. SmartDOTs can simply be attached to any electronic or cordless device, or inserted into battery compartments or phone cases or battery compartments if preferred. Devices recommended include smartphones, DECT phones, wifi routers, laptops, tablets, smart-meters, wireless printers, handheld consoles and gaming controllers, baby monitors, etc. SmartDOTs do not affect the functionality, battery life or signal of the device. The smartDOT is guaranteed for 2 years.
Available in single or double packs, the smartDOT price starts from just £25.00
The bioDOT family (bioDOT, bioband, biotag or bioclip)
The other core energyDOT is the bioDOT.  We all live busy lives in a high tech wi-fi world which challenges and compromises our health. Prolonged use of the computer and/or mobile phone, traffic jams, emotional challenges, are everyday stresses affecting our energy field or 'biofield'.  The bioDOT is designed to rebalance and restore your energy levels, while also reducing the toxic effects of electro-stress.  Designed to be worn, you can stick the bioDOT to a favourite piece of jewellery or the back of your watch. Wearing a bioDOT can bring greater concentration, better sleep, more energy, fewer headaches, and relief from stress.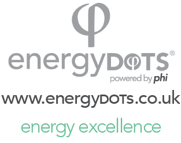 An alternative to using a bioDOT is the bioband, biotag or bioclip. All of these products have a bioDOT recessed in them and so provide the same great benefits as outlined above. The bioband is available in white, blue or grey and in sizes small, medium and large and so is suitable for ladies, gents, older children and teenagers. The biotag or bioclip are available in either white, black, blue or pink and are an attractive, fashionable way of wearing a bioDOT.
The bioDOT, bioband, biotag and bioclip are offer with a FREE smartDOT and are priced at just £29.00. The bioDOT itself is guaranteed for 5 years.
Also available is our Phi Luxe jewellery which incorporates a bioDOT. Select from our optimising or encoded pendant, made from solid silver with mother of pearl finish.
The aquaDOT
The aquaDOT is designed to refresh the natural energetic structure of water, removing 'imprinting' from EMF's and other sources. Water is very impressionable (it is a liquid crystal with a pliable lattice matrix) and the water supplied to us today is just as exposed and sensitive to the vibrational effects of electromagnetic radiation as we are; it can become imprinted with distorted frequencies from technology.
Using an aquaDOT gives your body the best chance to renew itself on a cellular level. Place an aquaDOT on either on a water filter, jug, glass, water bottle or coaster.
Available in single or double packs, the aquaDOT price starts from just £25.00. The aquaDOT is guaranteed for 5 years.
The spaceDOT
The spaceDOT can be used to harmonise disruptive energies and so uplift the energy in your home or work space, which all have their own 'vibe' which can be negative, neutral or positive. There are several layers that contribute to create the overall energetic quality of any environment.  Earth energies such as geopathic disturbance, emotional residue from previous occupants, architechtural and historic elements all influence the energetic quality of a property.
The spaceDOT interacts resonantly with your environment to produce a powerful clearing effect. Using a spaceDOT will give better sleep quality, and will alleviate headaches and other physical symptoms.
Place a spaceDOT on your favourite object in an area that needs re-energising the most. Alternatively, place a hand made glass Phi pyramid in your home or work place. As well as an object of beauty, it amplifies the effect of the spaceDOT to a working radius of approximately ninety metres, as opposed to a single spaceDOT which has a radius of 5 metres.
Available in single or double packs, the spaceDOT price starts from just £25.00. The spaceDOT is guaranteed for 5 years.
Daghda Ireland recommend energyDOTs as tried and tested devices that help reduce the toxic effects of electro-magnetic and geopathic stress. By using the code DAGHDA, you will be entitled to a 20% discount off all purchases made in the energyDOTs web shop.